Hello All - From a 97' Civic HX Owner
08-30-2010, 08:12 AM
Join Date: Aug 2010
Posts: 12
Hello All - From a 97' Civic HX Owner
---
Hey guys,
My name is Kyle. I am the proud owner of a 97 Honda Civic HX 2 Door Automatic. It is Black and has a rear spoiler.
I have some ideas for changes, primarily mechanical, that I want to ask advice on, so if you see my posts, PLEASE feel free to put your input in, as I am always wanting advice.
I am a car noob, but am learning. I recently bought the Haynes Repair Manual for the Honda Civic (96-00), CRV (97-01) and Acura Integra (94-00). I have been looking through it. I am beginning to become familiar with the parts and locations of parts in my car, but am still clueless as to how all of them work together.
Anyways, I will start up a different post for these ideas I have in my head for my Civic:
1. Check Engine Light (Mech says it's catallytic converter, and for my particular model, priced the part at $650. WHAT!?!)
2. Well, I need new tires, any recommendations...
3. Learning how to change oil. I don't think it's gunna be hard... but advice would be cool.
4. I want to remove my auto transmission, and install a 5 speed.
I know this is a BIG project. But I want to try it.
Thanks, and I look forward to meeting everyone!
---
Last edited by Sectorbob; 08-31-2010 at

10:25 AM

. Reason: Spelling
08-30-2010, 08:48 AM
---
Hello and welcome to HCF first off would love to see pics of the car, and if the wing is not OEM it has to go.
If it is your CC then I would check around for prices there has to be cheaper ones around im sure.
Tires here:
http://www.discounttiredirect.com/di...w=false&cs=195
Myself and Trustdestruction on here would recommend these. Both having these I think they are great tires and the tread is smooth driving.
08-30-2010, 09:28 AM
Join Date: Aug 2010
Posts: 12
---
Thanks!
I will get some pics out as soon as I get it back from the body shop. i am having the roof repainted, and a door replacement... yeah I got in an accident
As for the spoiler. I believe it is OEM, but here is the kind of spoiler I have: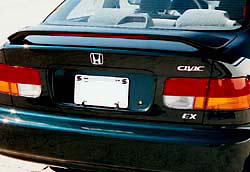 I will definitely look into those tires!
08-30-2010, 06:29 PM
---
welcome to HCF.
What check engine light are you throwing? P0140?
The reason why the cat converter is so expensive is because for the hx models, i think even the cx and dx as well) the cat converter is a one piece with the header.
tires i recommend General Altimax HP (what i have on my civic). Works pretty good in wet and dry conditions. Pretty long tread life as well. I've had it for 2 years and still have 75-80% tread left. Another tires i recommend are the Bridgestone Potenzas RE960. My girlfriend has them on her car and is just as good as the general altimax. Both are pretty quiet tires as well.
Changing oil is not going to be hard at all. heres a DIY that can help you out.
https://www.hondacivicforum.com/foru...ad.php?t=14532
As for the manual trans swap. Maybe this DIY can help you out.
http://www.honda-tech.com/showthread.php?t=1337459
. You can also google it and you will get some more.
also i dont think hx models ever came with spoiler stock. so someone probably added it on from a 96-98 civic ex model
09-02-2010, 08:21 PM
Join Date: Aug 2010
Posts: 12
---
Lol, was it your mechanic buddy? Or at least someone with experience?

I thought about selling my civic, but all the prospect cars I drove didn't ride well compared to mine. Some the clutch seemed off, others accelerated poorly and roughly, and others were just not well taken care of. I figured that I could either suck it up with the automatic, which runs well, or possibly do the swap.

I do not know if I'll have the tools or resources or elbow grease for the job. I know I'd have to give myself 3 days to do the project if I decided upon doing it. And I could get my dad to help me.

Just curious, the tutorial for the swap recommends taking out the motor... how difficult is this? I mean, you have to drain the fluids (which seems scary enough to me by itself), and pry the motor out... how heavy is it?
---
Last edited by Sectorbob; 09-02-2010 at

08:29 PM

.
Thread
Thread Starter
Forum
Replies
Last Post