Post your camera setup
03-08-2010, 11:45 AM
Post your camera setup
---
we finally have a photography forum.
Like the title says, post up pictures of your camera setup and include list of accessories and lenses for it.
lets get this thread going. Post it up
---
Last edited by sfazngiants; 03-08-2010 at

11:51 AM

.
03-08-2010, 12:47 PM
---
Canon XSi
Kit Lens 18-55mm
CPL, FLD, and UV filter
Digipower Tripod
03-09-2010, 03:31 AM
---
Nikon D3000 DSLR
-Nikkor 18-55mm lens

I need more lenses and a tripod =/
03-11-2010, 04:05 AM
---
wewt! When I got home from work yesterday there was a box on my back porch. My mom (who has been a photographer for longer than most of us have been alive) bought me a new Canon 200EG backpack! I'm pumped, this thing is *******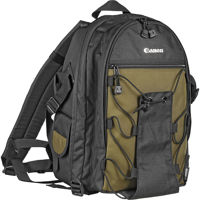 ......now i just need more lenses to stuff in it
---
Last edited by GReddy_Civic; 03-12-2010 at

09:32 PM

.