95 Honda Civic Ex [FOR SALE OR TRADE]
02-22-2008, 11:23 PM
Join Date: Feb 2008
Posts: 3
95 Honda Civic Ex [FOR SALE OR TRADE]
---
Hey everyone.
I have a 95 honda civic ex for sale or trade.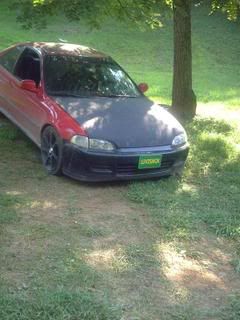 TIMING BELT JUST BROKE --$70 BUCKS && ITS FIXED
ENGINE HAS 45,000 MILES---BODY HAS 156,000
NEEDS SOME TLC.
FORSALE OR TRADE TO ANOTHER VEHICLE PERFERABLY A SMALL TRUCK, OR I'LL TAKE 1800 OBO.
EMAIL ME AT
[email protected]
02-23-2008, 11:02 AM
RE: 95 Honda Civic Ex [FOR SALE OR TRADE]
---
dito. you fix the timing belt and get it running again and ya might get that much for it MAYBE...
but only way youll get that much is if the buyer doesnt know it can easily have belt valves and cost ALOT more to fix now!!!!!!
plus the cars obviously been in a wreck before.LOL

02-23-2008, 04:36 PM
Join Date: Mar 2006
Location: Western Mass
Posts: 811
RE: 95 Honda Civic Ex [FOR SALE OR TRADE]
---
1800 is alot of money. So either the valves are bent or they are still good, chances are slim that the valves are good. But people get lucky.Im pretty sure that civic motors are interference motors which means when you snap a timing belt you bend the valves so you need new valves new pistons. Also you need to resleeve the block because the piston needs to wear in that sleeve so it runs properly with least chance of leaking. It also needs to be repainted. That is alot of money to spend. on repairs.
02-23-2008, 07:20 PM
Join Date: Jul 2005
Posts: 199
RE: 95 Honda Civic Ex [FOR SALE OR TRADE]
---
ORIGINAL: jpnolan

damn i was interested till i heard Kentucky haha
Yea me too...but what motor is in it i have an extra timing belt lyin around if u want it ...ill sell it for like 30 shipped