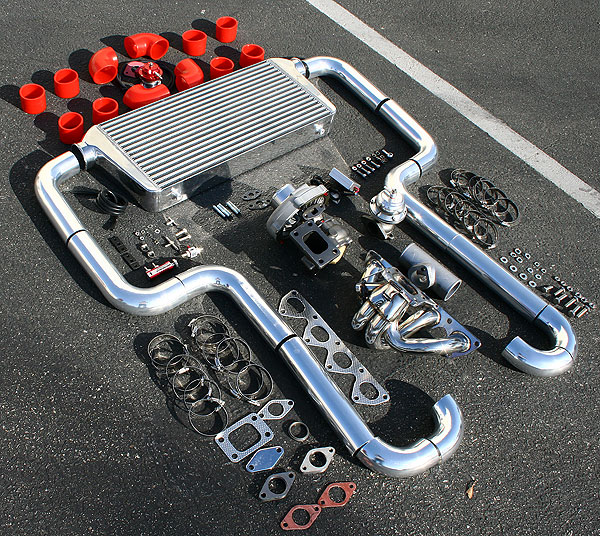 all new never used its an awesome turbo kit escpialy for noobs like me
when i got it it came up to 940$ with shipping
i will resell it for 650$ shipped anywhere please dont low ball this is brand new never used most still unopened
only selling because i need the money for this bike i really want
PM ME
BRAND NEW COMPONENTS!
STAINLESS STEEL MANIFOLD - Provides excellent performance for moderate boost applications. CNC Machined Flanges with TIG and MIG Welded for strength. Mandrel Bent High Quality SUS-304 Stainless Steel Down Pipe for maximum exhaust flow. Tested to be able to withstand the stress and heat of turbocharged applications
INTERCOOLER - Our HUGE 30.5" x 12" x 3" is included! 3" inlet/outlet. Bar and plate design for efficient cooling with shaped end tanks to allow better air flow through the core. Large surface area for effective cooling. Low pressure drop rate across the core. 1000CFM+ RATING!!!
BLOW OFF VALVE AND FLANGE PIPE - Includes our Racing RS Blow off Valve and compatible Aluminum Flange Pipe! Easily adjustable Blow off Valve to match your desired set-up and gives a great turbo sound! Aluminum flange pipe has low pipe thickness to diameter ratio for maximum air flow! Lets you customize blow off valve placement with nothing else to buy!
BOOST CONTROLLER - Includes our In Cabin Boost Controller (ICBC). Performance manual boost controller is installable inside the cabin for adjustments on the fly! (Boost Gauge recommended!)
38mm WASTEGATE (not pictured) - Quality wastegate unit has long operating life and provides reliable performance.
TURBOCHARGER - T3/T4 Flange, T04E Hybrid Turbocharger with .57 compressor wheel trim, .50 A/R Compressor, .63 A/R Turbine, 3" inlet / 2" outlet. Quality turbine and compressor for reliable performance. 30PSI + potential
INTERCOOLER PIPING AND COUPLERS - Mandrel Bent High Quality 2.5" Aluminum Pipes for smooth consistent air flow. High Quality Silicon Couplers will not crack or split. (All necessary pipes and couplers included - some couplers not in picture).
TURBO TIMER - JDM Automatic Digital Turbo Timer included! Protect your performance investment with a turbo timer ensuring longevity of your turbocharger and other components.
OIL FEED LINE - Braided Stainless Steel Oil feed line Included!
OIL CATCH CAN - A must for longevity of your powertrain. Crafted from T6061 Aluminum, external level indicator, 750ml capacity, 6.25"Height x 3.25" Diameter
Includes almost all necessary parts (Gaskets, Vacuum Hoses, Vacuum Tee's, Clamps, Bolts, Nuts)
LARGE power gain potential with this kit using stock engine
DOES NOT INCLUDE: TURBO OIL RETURN LINE AND OIL PAN FITTING
ECU UPGRADE AND TUNING IS REQUIRED!!!
RECOMMENDATIONS FOR HIGH BOOST SET-UPS - larger injectors, fuel pump, adjustable cam gears, catback exhaust system
all the details i have on this