Jayrdee - Civic SI project
06-26-2013, 10:02 AM
Jayrdee - Civic SI project
---
So, after quite some time being a somewhat quiet browser on this site i figured i would give this whole project thread thing a shot, especially considering my car has became a long-term project of mine due to recent events.
For some quick background info: i got the car as a xmas gift from my parents when i was 15 for my first car. Now, before i go any further let me state that im not one of those douche kids who are "mommy and daddy" sponsored. I work/worked hard for the car and continue to do so out of my own time and money. I am the 3rd owner. it came with the jdm B18c already swapped into it with a skunk2 test pipe and Apexi WSII exhaust along with some eibach lowering springs. Not really sure about the details of its past, other than the 1st owner riced it out with big body kits, underglow, sound systems n fancy electronics, and beat it to hell. 2nd owner cleaned it up and swapped the motor out.
I had bought some 17in. rays gram lights for the car for a stupid cheap price but ended up selling those to get some bronze drag dr31s
yes, they were real gram lights and i totally downgraded but 17s were just too big for my taste and i didnt really like the way it looked. i dont have any pictures of them, but this is what the car looked like after i bought the drags. [IMG]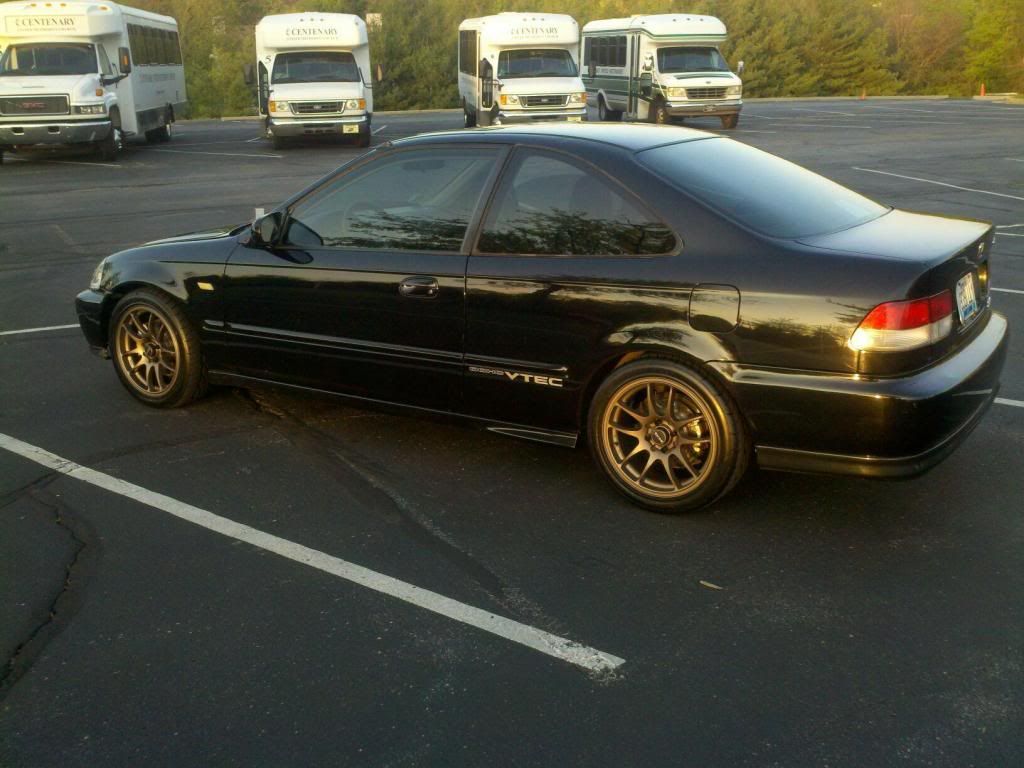 [/IMG]
Then later on i wanted to go lower so i sold the springs and bought koni yellow shocks with ground control coilovers.
[IMG]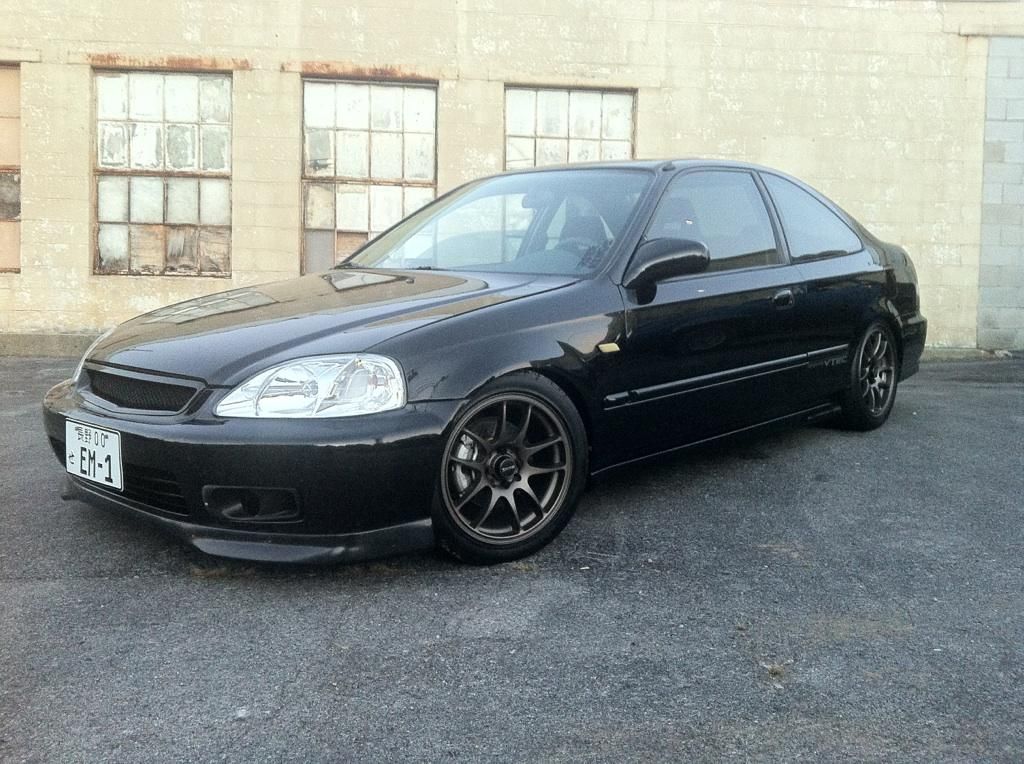 [/IMG][IMG]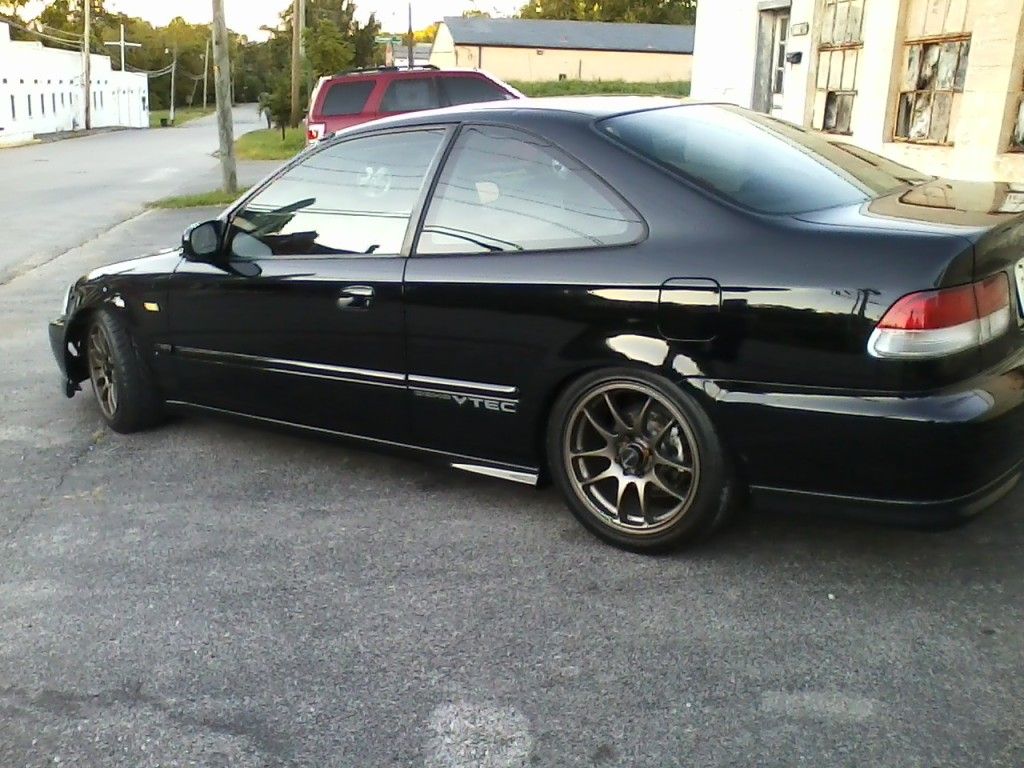 [/IMG][IMG]
[/IMG][IMG]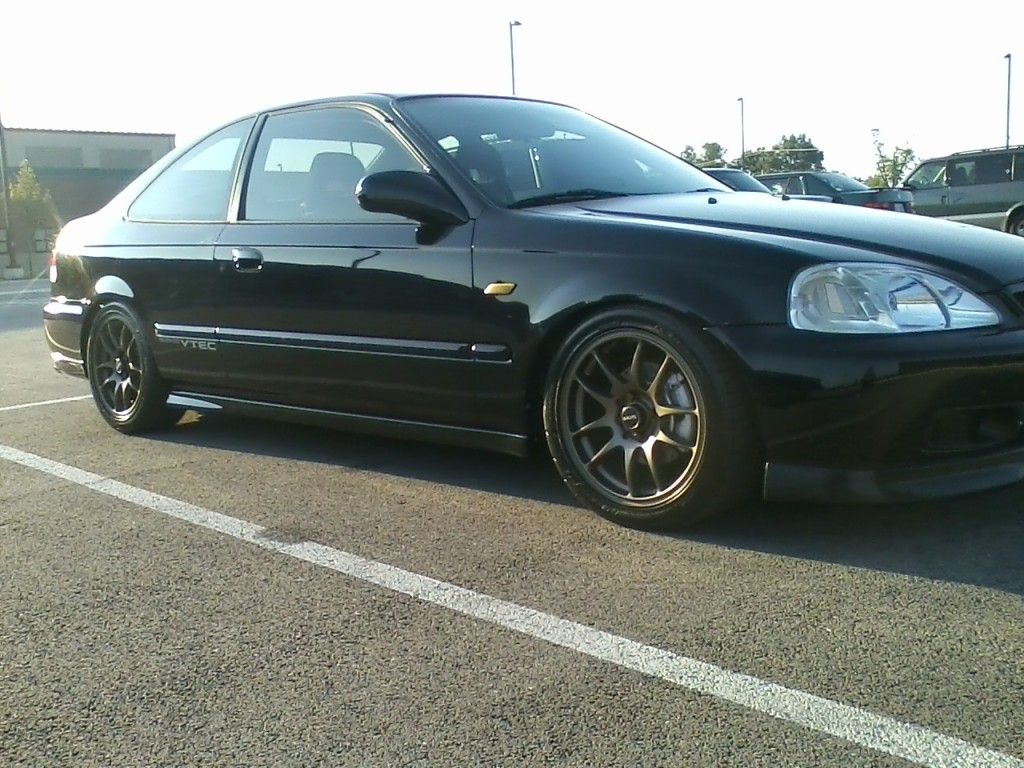 [/IMG]
and then a while later ...
... well lets just say wet country roads + no signs + sharp corners + understeer = [IMG]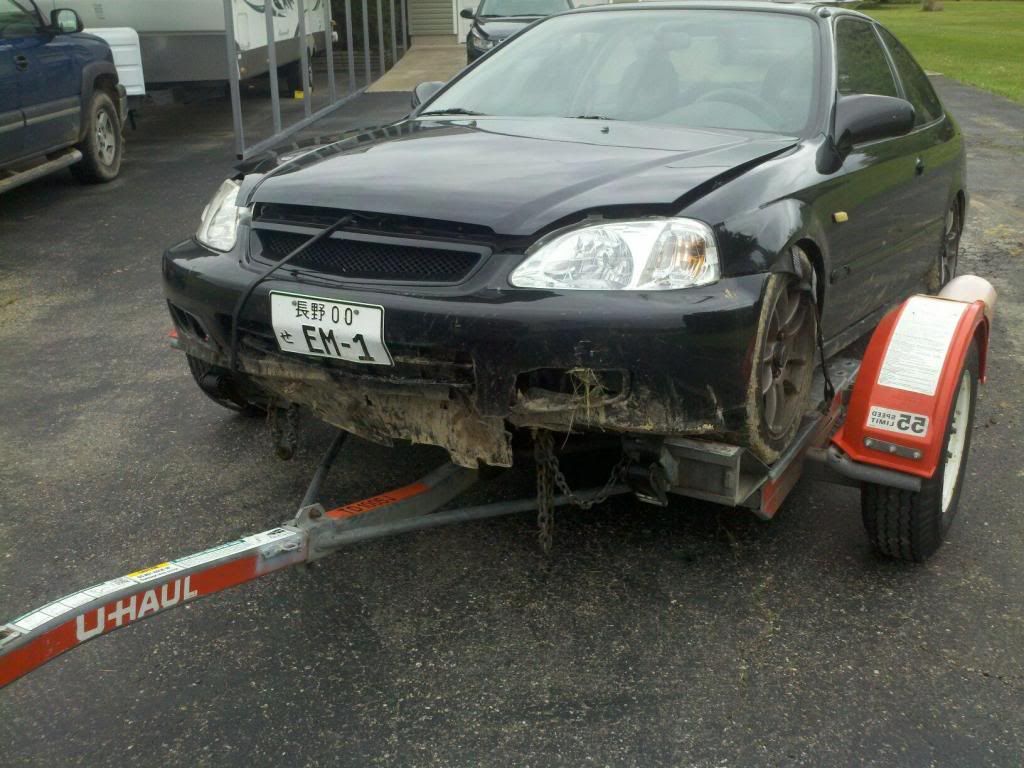 [/IMG][IMG]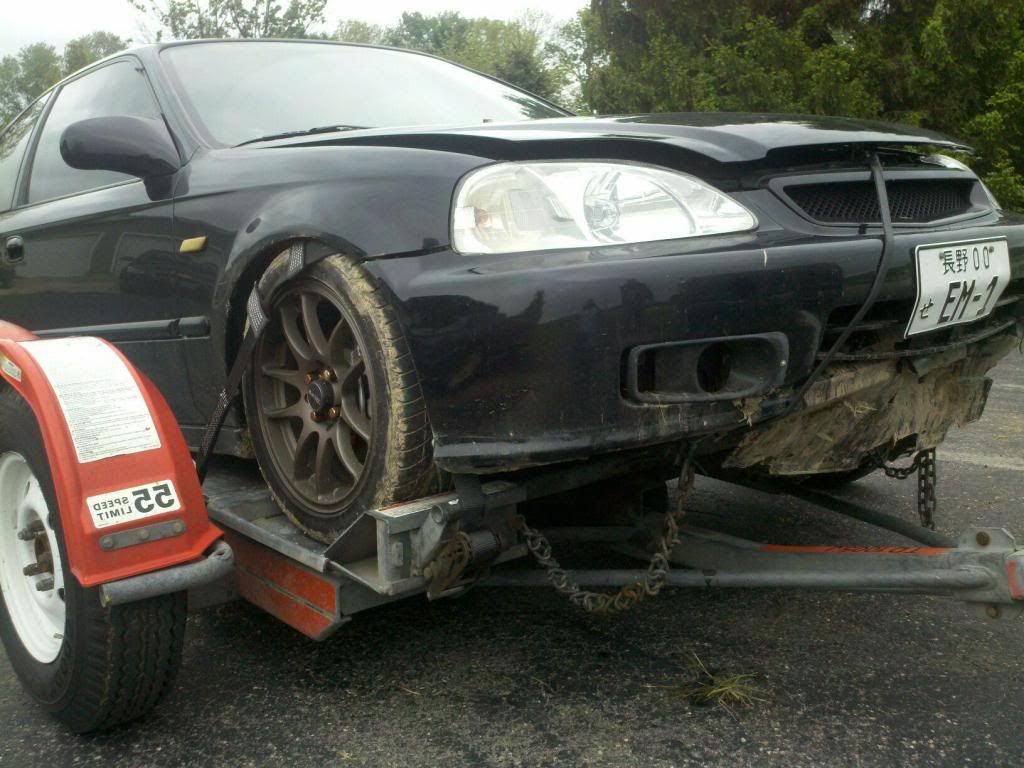 [/IMG]
definitely not a good time, especially when you are 3 hours away in another state at 2 am. fortunately neither me or my friend were hurt we were only going like 40mph and we simply slid into the runoff ditch thing on the side of the road. Apparently the owners of the house nearby said theres always an accident on that corner every weekend, and thats why they took down their fence. should put some signs up or something but thats a whole different discussion. im just as accountable since i was the driver and i failed to be more cautious.
Anyways, luckily there wasn't alot of damage the mud had pushed the bumper in and bent the lower radiator support, and broke the top bracket on the radiato r. but then again, it was just enough damage to make the repair out of my hands. This is the main damage the car received, and it sucks because from where that support thingy (i apologize, im a n00b and call everything thingys) is welded onto the frame i have no way of getting it off and welding the new one back on.
[IMG]
[/IMG]
i had managed to pull the bumper out a bit and take off what was left of the front lip so it wasnt such an eye sore when i went into the garage. I sold the drags and put my si wheels back on to help fund the project. This is my cars current status
[IMG]
[/IMG]
And this is where the project begins.
i've always talked about giving my babe a facelift and doing all kinds of things to her, now i have an excuse to do so. And make it better than before.
using the money from my old wheels, and what was left in my bank account i bought a new radiator, the whole front bulkhead, new bumpers, and the oem front lip. i hated my old front bumper. before the wreck the lip was too big and didnt fit right, the fog light trays didnt fit right either and that bugged the crap out of me. idk how they typically install fog light trays in those bumpers but whoever put them in cut the wholes out too big causing the trays to be off center. but i dont have that problem anymore
[IMG]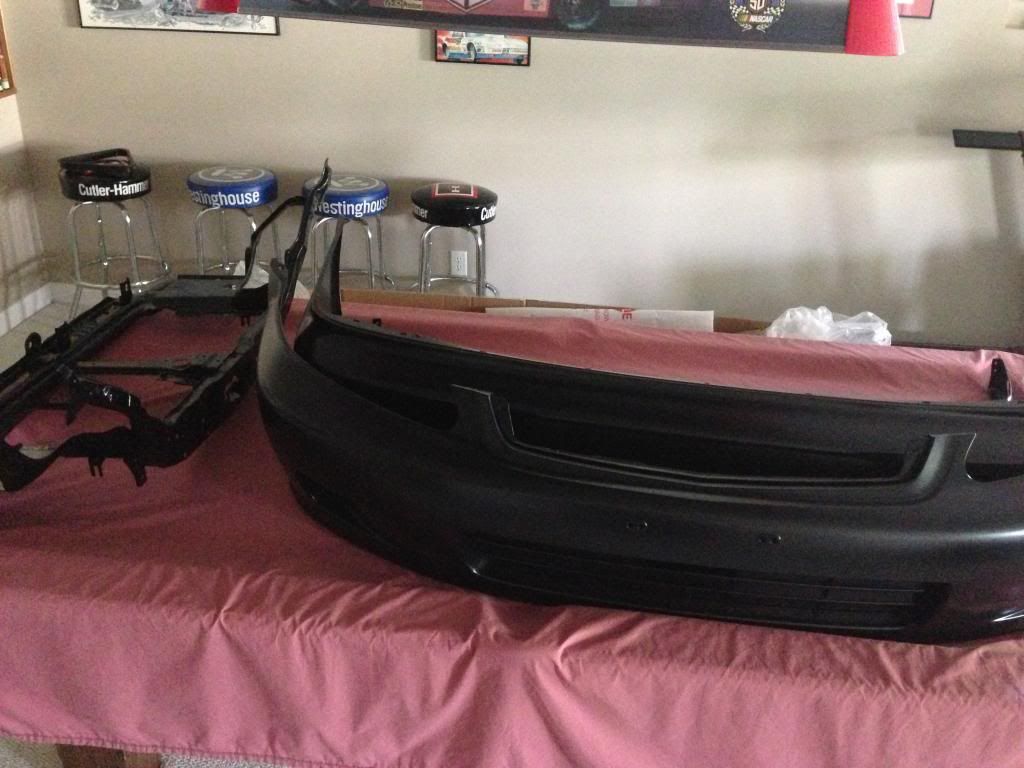 [/IMG]
next on the list, new wheels. im a sucker for a nice wheel n tire setup. im getting these rota grid Vs here in the next week or two once i get my paycheck. Going with 16x8 +20mm along with 205/40/16 nitto neogen tires. had those on my drags and i loved them.
[IMG]
[/IMG]
i want to get the wheels first so i can see how much more i need to roll my fenders before i repaint the car and how they will fit once i get a camber kit. im not too focused on getting the car up and running anytime soon since i am leaving in two months for the national guard. i will be located at fort jackson SC for 6 months due to training. But those paychecks are gona be quite helpful with this project
06-26-2013, 07:24 PM
---
Hahaha thats why im dumping all my funds into my car first
06-28-2013, 09:22 AM
---
Is that radiator damaged?
06-28-2013, 10:24 PM
---
yeah the main bracket thing on the top of the radiator completely broke off, along with part of the radiator itself.
its all good though, i was able to get a good deal on a new one.
07-08-2013, 08:08 AM
---
As of now, after I get all the cosmetic stuff done and looking brand new I am doing a k-swap when I get back from training. I will definitely have the funds to do it if I save up my money while I'm gone ... I know it's pretty common, but I just think it'd be cool to do one myself. Iv looked into it pretty heavily and even bought hybrid racings little "how to" DVD. I will probably end up buying alot of their parts since they have basically everything that's needed to do a k-swap. Still unsure on what motor, definitely either the k20 rsx type s or k24 Acura tsx. It all just depends on what's available at that point in time. My ultimate goal: build the cleanest k-swapped civic si
07-11-2013, 08:17 AM
---
Sucks about the wreck, could have been worse though. I was eyeballing those Grids for a while myself. To fit a 16x8 +20, your rear quarters will need to be rolled flush. I have 15x8 +15s on my EK and completely rolled fenders, real hard turns will have a tiny bit of rub still even with my Koni's as stiff as they'll go.